Intel® RealSense™ ID Solution F455 Peripheral
Intel RealSense ID Solution F455.
Our on-device solution combines an active depth sensor with a specialized neural network to deliver secure and accurate facial authentication for everyone, everywhere.

Fast
Authenticates in less than a second.

Accurate
1:1 Million False Acceptance Rate.

Secure
On-device encrypted transactions with the use of embedded Secure Element.

User Control
Takes a few seconds to enroll and you are always in control.
Small and mighty.
Smaller than a credit card, but powerful enough to authenticate reliably in less than a second.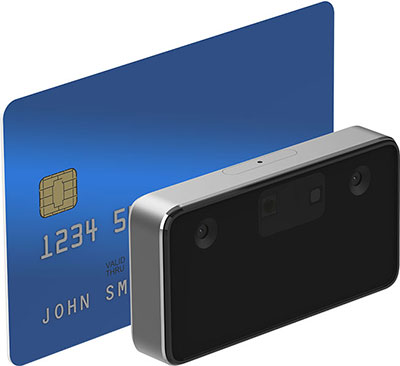 Jump-start your project.
Intel RealSense ID Solution F455 is ready-to-use and perfect for integration out-of-the-box.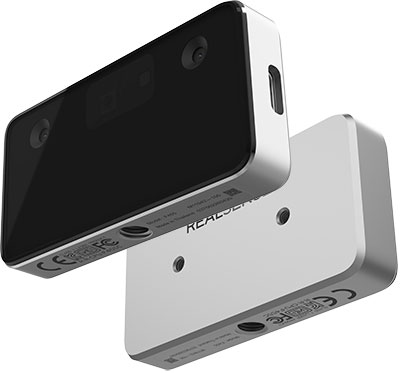 Trusted and Secure.

1:1 Million


False Acceptance Rate

AES-256


Encryption use on all levels

<0.1 %


Spoof Acceptance Rate

99.76 %


True Acceptance Rate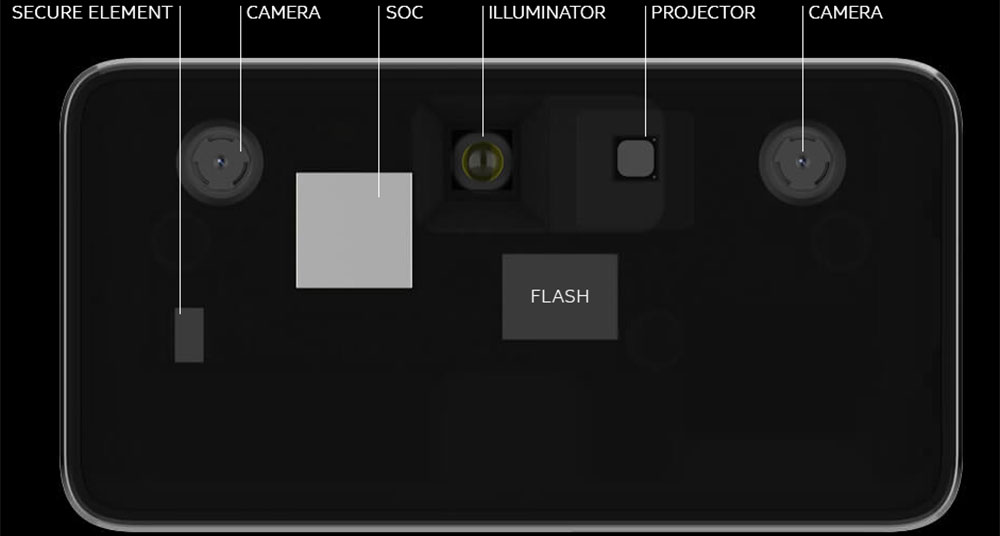 For facial authentication developers.
Intel RealSense ID is open-source, created with the developer in mind. It currently supports most popular platforms out-of-the-box like Windows, Linux and Android.

Find answers to your questions with our how-to guides and articles.

Check out how easy it is to get started with Intel RealSense ID.
Tech Specs
Use Environment
Lighting conditions:
Indoor/Outdoor
Operating temperature:
– 0° to 40° C


---

Operating Parameters
Field of View (H × V):
56° × 78°
Recommended range:
0.3-1 meter

---

Interface
– Host: USB2
– AUX: SPI, GPIOs

---

Power
Peak: 3.6 W
Average: 1.5 W
Standby: 0.3 W


---

System Requirements
Operating system:
– Windows
– Linux (Coming soon)
– Android (Coming soon)
Programming languages:
C++

---

Physical
Form factor:
Peripheral

Dimensions (Width × Length × Depth):
– 32.5 mm × 62 mm × 11 mm
Connectors
– USB-C*
– AUX

Mounting mechanism:
– One 1/4‑20 UNC thread mounting point
– Two M4 thread mounting points
– Tripod
Anguilla, Argentina, Aruba, Ascension and Tristan da Cunha, Australia, Austria, Belarus, Belgium, Belize, Bermuda, Bosnia and Herzegovina, Brazil, Bulgaria, Canada, Caribbean Netherlands, Cayman Islands, Chile, China, Christmas Island, Cocos (Keeling) Islands, Columbia, Cook Islands, Costa Rica, Croatia, Curacao, Cyprus, Czech Republic, Denmark, Dominica, Dominican Republic, Egypt, Estonia, Falkland Islands, Faroe Islands, Finland, France, French Guiana, French Polynesia, Georgia, Germany, Gibraltar, Greece, Greenland, Guadeloupe, Guam, Guernsey, Honduras, Hong Kong, Hungary, Iceland, India, Indonesia, Ireland, Isle of Man, Italy, Japan, Jersey, Latvia, Liechtenstein, Lithuania, Luxembourg, Malaysia, Malta, Martinique, Mayotte, Mexico, Monaco, Montserrat, Netherlands, New Caledonia, New Zealand, Niue, Norfolk Island, Northern Mariana Islands, Norway, Panama, Peru, Philippines, Pitcairn Islands, Poland, Portugal, Reunion, Romania, Russia, Saint Barthelemy, Saint Helena, Saint Maarten, Saint Martin, Saint Pierre and Miquelon, Singapore, Slovakia, Slovenia, South Korea, Spain, Svalbard and Jan Mayen, Sweden, Switzerland, Taiwan, Thailand, Tokelau, Turkey, Turks and Caicos Islands, UK Virgin Islands, United Kingdom, United States, US Virgin Islands, Vatican City, Venezuela, Vietnam, Wallis and Futuna.
Manufacturer Warranty
Limited Warranty period: 1 year
How do I get a warranty replacement?
Contact Intel customer support or chat with an agent.
Manufacturer Contact Information
Technical Support: support.intelrealsense.com
Website: intelrealsense.com
Return Policy
Return within 30 days of delivery date.
To submit a return, please go to My Account -> My Orders -> Return or Replace Items
Defective or dead on arrival
Please access your My Account to exchange the product.
Intel® RealSense™ Store will exchange for the same model number.
This item is covered by store.intelrealsense.com return policy.
This hardware is subject to the U.S. Export Administration Regulations and other U.S. law, and may not be exported or re-exported to certain countries (Cuba, Iran, North Korea, Sudan, and Syria) or to persons or entities prohibited from receiving U.S. exports (including Denied Parties, Specially Designated Nationals, and entities on the Bureau of Export Administration Entity List or involved with missile technology or nuclear, chemical or biological weapons).
Processing times
We ship orders for in-stock products within two business days from the time you place your order with us. We do not ship on weekends or holidays. If you place an order on the morning of a Friday or the day before a U.S holiday, the soonest that your shipment will arrive is the following Monday or the day after the U.S. or any local holiday. Orders placed after 12:00 PM Pacific time on a U.S. business day will ship no later than the second business day following your order.